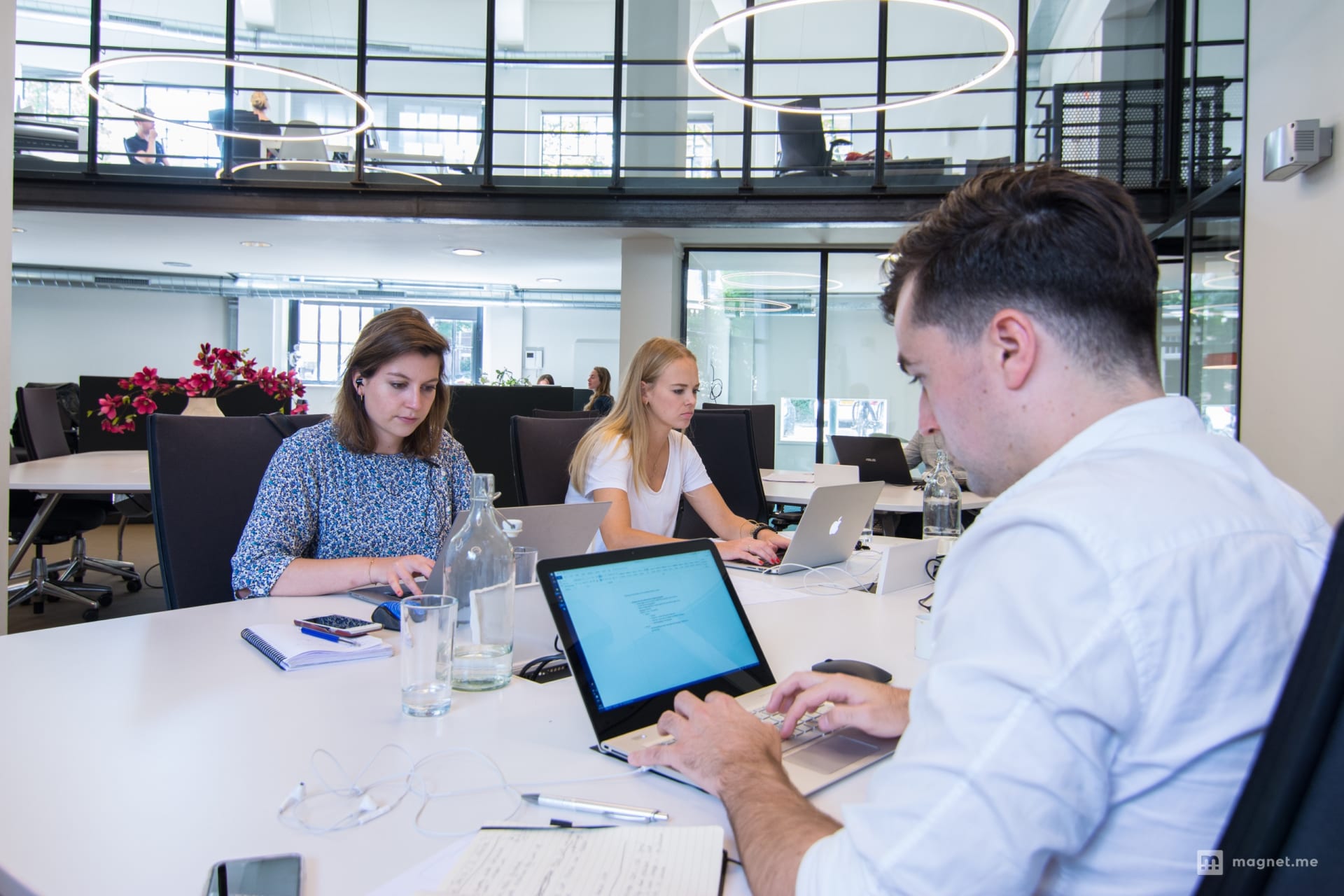 Online B2B Marketeer
Amsterdam

,

Noord-Holland

,

Netherlands

Support staff
Description
Are you ready for the next phase in your career at Europe's leading digital strategy consultant? We are looking for an driven marketing professional to support our international growth ambitions to further build our brand awareness and digital thought leadership position. Do you combine analytical strength with a can-do mentality and a passion for digital marketing? Then read on!
As an Online B2B Marketeer you will help us to shape and execute the SparkOptimus' international marketing strategy with focus on the Dutch, German, and Swiss markets. This versatile role covers a wide variety of channels (website, socials, radio, print, etc.), sources of content (CEO stories interview series, client work, own service lines), events (in-house round tables and external events such as CES Unveiled), collaborations with business schools (e.g. IMD, INSEAD, or HBS), and other marketing tools (e.g. our Make Disruption Work management book). You will report to the head of marketing and work together with a content marketeer and a visual marketeer on a day-to-day basis. You will also be working closely together with our Düsseldorf and Zurich teams to support the execution of our marketing strategy in the German and Swiss markets.
What you'll do
Define annual marketing ambitions and quarterly targets and deliverables with the rest of the marketing team
Translate marketing concepts into concrete campaigns (in line with commercial year plan, marketing calendar, marketing KPIs, and objectives)
Set up, oversee, and manage our campaigning drumbeat (LinkedIn, Google advertising, consultancy.nl, etc.)
Track performance of marketing activities to see what is working and what is not, come up with and implement improvements
Oversee event calendar and support organization and hosting of in-house events for C-level executives of (potential) clients (e.g. round tables, masterclasses, book launch event, etc.), always ensuring an on-brand attendee experience
Identify, prioritize, and support execution of (offline) marketing activities in Germany and Switzerland together with our local teams
Lead executing of one or more high-profile 'special projects' from the marketing side (e.g. new book launch)
Why SparkOptimus?
We are SparkOptimus – Europe's #1 digital strategy consultant.
We make disruption work for you.
Digital is not about digital for digital's sake. It's about using technology and data to serve customers better, faster and cheaper. Over the past decade we have gained unparalleled experience in the 'how to' of digital transformation. We started out working with digital natives, but soon were applying our insights to global companies. To this day, we've worked on more than 900 projects in 25+ countries for large multinationals such as Nestlé, Nike and Ikea.
We support our clients with digital strategy through to hands-on execution, and build their capabilities in the process. We develop new ways of working and organizing as well as improving technology and data systems. We bring ideas from concept to test to proven business operations that deliver value for customers at scale.
If organizations want to thrive in the future they will have to be data-driven, have the highest speed of learning of their industry, and be human-centric and sustainable by design. We help our clients get there. We are active on all continents from our offices in Amsterdam, Düsseldorf and Zurich.
"SparkOptimus delivers exactly what I need for my own happiness: constant development and opportunities to grow just beyond my comfort zone, projects where I feel we are creating value, and colleagues that push and support me while being the same people I want to have a beer with when the work is done."
Lukas Halusa, senior associate
"It is extremely rewarding to work at a company that encourages employees and clients alike to grow and improve. Doing so together with an enthusiastic and motivated team inspires me every day.
Marlene Hinterleitner, marketing
Requirements
You have 4+ years of experience in (B2B) marketing
You know your way around LinkedIn and feel comfortable in with Excel and PowerPoint
You are results-driven, have a data-driven mindset, and spotting optimization opportunities is your second nature
You are a strong team player with excellent communicational skills, able to convey information in a clear and structured manner
You have an eye for detail, feel comfortable working according to the highest of quality standards, and willing to go the extra mile
You are fluent in English and Dutch and based in the Netherlands